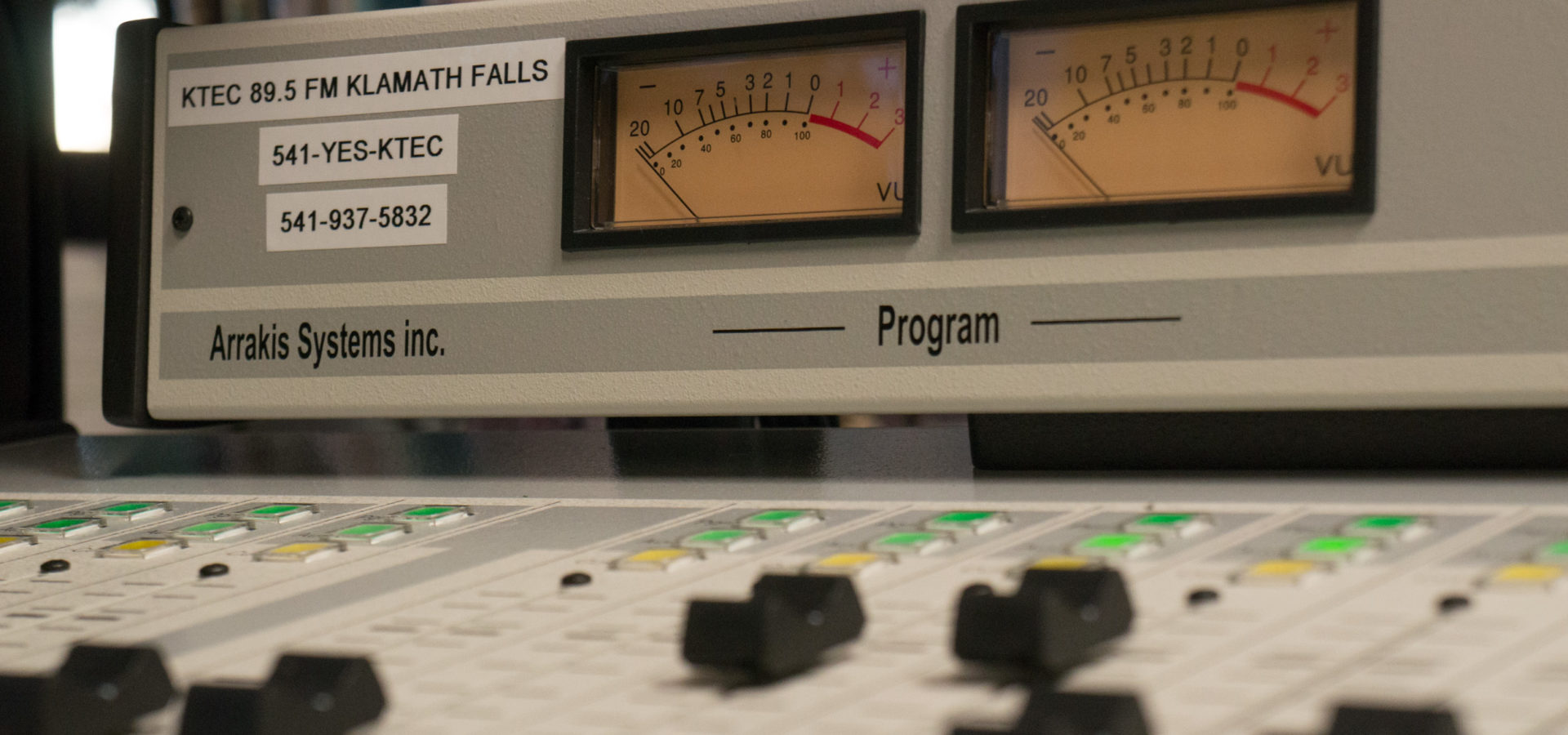 General Questions
---
Are you guys a real radio station? Can I listen on the radio in my car?
You certainly can. While some college radio stations only reach the edges of campus, or are entirely an internet station, KTEC 89.5 FM is a fully functional radio station, with broadcasts reaching all of Klamath Falls and the greater surrounding area. Listen in your car, your dorm room, your house, wherever you can pick up a signal, and of course, online! KTEC is THE Klamath community station.
---
Where is KTEC?
KTEC 89.5 FM is located on the bottom floor of the Oregon Tech College Union building, on the south side. Our office is located at CU 113. Just head toward the College Union from main parking lot and listen for the music!
---
Does KTEC have live DJs? Or just a computer playing music?
While KTEC has an automated system to play music when no one is in the studio, we are proud of our many live DJs. You can see the schedule for all of our live DJs, as well as our automation schedule, on our schedule page.
If you think KTEC is missing something and want to share YOUR voice, you can always sign up to be a DJ yourself - check out our easy online application!
If you want something more out of KTEC, but don't really want to be on the air, we've got something for you too. Also located on our homepage is the Listener Survey, where you can tell us all about what you want to hear on KTEC. We're the community's radio station after all. Your voice is important to us!
---
I have family back home. Can people listen to KTEC online?
They can. Located up on our navigation bar at the top of the page is our commerical-free online music stream! Just click the link, sit back, relax ,and listen!
---
I am a student leader / local business owner. Can KTEC help me with advertising?
As far as advertising goes, we can mostly help you. As we are a non-profit educational station as defined by our FCC license, we can't directly advertise. However, we can do what is known as an underwriting. An underwriting is almost the same as advertising, except with no "calls to action". This means we can't say, " Go and check out this event!" or "You should try this product!" We can however tell our listeners all about your event or product and let them decide themselves whether they want to partake. But hey, your stuff is so cool who wouldn't want it right? For more info on underwriting, please check here.
---
Will KTEC DJ for my group's event?
We'd love to! We have a couple on staff DJs ready to go, plus a few very talented volunteers, eager to work with you to DJ your event. We have our own equipment, or can use yours, or some combination. Fill out our Event Request form if you're interested.
DJing
---
Can anyone be a DJ?
Yes they can! Anyone at all can apply to be a DJ, no prior experience is necessary. We'll even train you! Just fill out our easy online DJ Application, or contact our program director. We look forward to getting you on the air!
---
Do I have to have only a certain kind of show?
Not at all. KTEC 89.5 FM prides itself in being the only free-form station in the Klamath Basin. Being free-form means there is no limit to what we can put on the air! We let our DJs decide their show's content from the very beginning, whether it be jazz, raggae, sports radio, a comedy show, politics, you name it! We're not here to judge. The only rules we have to follow are those given by the Federal Communications Commission (FCC), which state what kind of material (clean or dirty) we can air and when. More info can be found on that here: FCC Safe Harbor Laws
---
What would I have to do as a DJ?
As a DJ here at KTEC 89.5 FM, it is expected that you follow all rules and guidelines as stated in our DJ handbook.
---
Can I get paid?
While KTEC does have some paid positions, our DJs are on a volunteer basis. Don't let that discourage you though. Being a DJ is your chance to share your voice and your music with the world. Come on in and have one of the most fun and engaging experiences you may ever have. In the event you are looking for a Job here at KTEC, we typically do our hiring in the fall. However, feel free to fill out an application and give it to us at anytime. Check out our staff positions page for more information
---
I've heard that certain things can't be said on air? Is that true? What are they?
You've heard correctly. Certain words and phrases can't legally be said on the air. These are determined by the Federal Communications Commission (FCC), and are defined here. These rules apply to DJs, guests, music, audio clips, and anything else that you could put out over the air.
---
I have a bunch of old vinyls / CDs / etc. Can I use them at KTEC?
Yes you can. KTEC 89.5 FM is equipped with two professional vinyl players, as well as a professional CD player. In addition to those, we give our DJs access to a 3.5mm cable so you can plug in anything your heart desires, from 8-track to betamax. Lastly, in case you don't have much of your own music, our station has a wide range of media available to all our DJs.